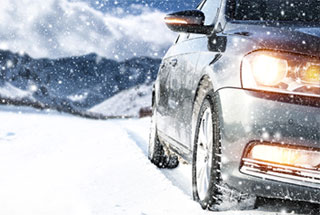 Seven tips for extended battery life!
Full power for longer and no starting problems in winter!
How to get even better performance from your Duracell car battery.
1. Keep it active and on the move.
Inactive batteries start to discharge in a process during which lead sulphate forms of the battery plates and obstructs the current flow. A charger keeps the battery in shape and prevents sulphation.
2. Keep it clean.
Ensure that the surface of the battery is clean and dry using an antistatic cloth. Moisture in the engine compartment causes current creepage, which consumes energy. In addition, do not use any so-called improvement agents.
3. Keep it safe in winter.
Battery starting performance declines in cold weather. Therefore, in order to have sufficient power, switch off additional consumers such as blowers and the heating until the engine is running. Moreover, turn them off before shutting down the engine.
4. Keep it running marathons.
During short trips cars often require more energy than the dynamo can generate and recharge, which means that the battery is subject to constant discharging. Therefore, if possible take the car out for longer runs in order to charge up the battery, or even better treat your battery to an external compensatory charge. The environment will be most grateful.
5. Keep it fit for winter with an extra charge.
Frequent short trips in combination with stop and start traffic reduce the energy level of the battery during every start and drive. Give your battery an extra portion of power with external charging, especially before the first cold winter weather arrives.
6. Keep your convertible in trim during hibernation.
Are you mothballing your car for the winter? If so and the battery is to stay in the vehicle, then remove the negative terminal. The battery must remain dry and cool (but frost-free). Recharge at the latest when an open-circuit voltage of 12.5V is reached. The solution for these requirements of seasonally driven cars is provided by regular compensatory charges and charge retention.
7. Keep a booster close at hand.
In view of the sensitive electronic components in the vehicle, as a rule starting assistance should only be given by a start booster. This is because start assistance from vehicle to vehicle can lead to voltage peaks during the disconnection of the terminals, which can damage or even destroy car electronic systems.
Get through the winter safely and well!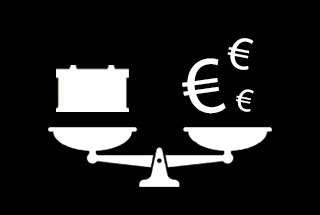 Battery tip: Cheap can be expensive!
When it comes to choosing a car battery, you should focus on quality.
Nowadays, starter batteries are particularly challenged by the use of start-stop systems, additional equipment and climatic conditions. Cheap batteries are often the more expensive solution!
The requirements for starter batteries are strongly dependent on the climatic conditions and the additional electrical/electronic equipment. Today, most new vehicles are also equipped with a start-stop system that switches off the engine when the vehicle is stopped in order to reduce fuel consumption and emissions. Conventional starter batteries can no longer fulfil this challenging task, which is why the use of special start-stop batteries with AGM (Absorbent Glass Mat) or EFB (Enhanced Flooded Battery) technology is required.
Cheap batteries are therefore often the more expensive solution, as they can lead to starting problems in summer and winter.
There is a good reason why Duracell quality batteries have established themselves worldwide!
They combine the highest starting power, further increased cold start characteristics, optimised current consumption capacity and thus improved chargeability as well as a long service life.
Duracell Tip: Use the next largest battery for your car, for which there is usually enough space. Because these are additional power reserves for your vehicle! The price difference is usually extremely small and the alternator of your vehicle is designed for it!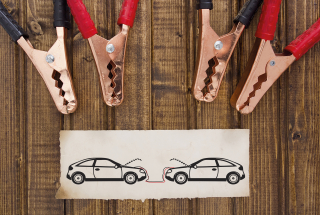 Battery tip: Giving a jump start.
You can always rely on a well-maintained Duracell battery, but what happens when a neighbour has starting problems? You naturally want to help and provide quick and simple assistance. That´s how you do it right!
However, one thing should be noted from the outset. Namely, that in view of the sensitive electronic components in the vehicle, as a rule starting assistance should only be given by means of a Booster. This is because start assistance from vehicle to vehicle can lead to voltage peaks during the disconnection of the terminals, which can damage or even destroy car electronic systems.
Therefore, it is essential that the following procedure be strictly observed when using starter cables!
– Standardised starter cables (e.g. in accordance with DIN 72 553) should always be used when giving starting assistance.
– Observe the instructions for the use of the starter cables.
– Only connect batteries with the same nominal voltage.
– When connecting the terminals, switch off both vehicle engines!
– First connect the two positive terminals (1) with (2). Then connect the negative terminal of the assisting vehicle (3) with (4), the blank metallic point on the vehicle requiring assistance, away from the battery. (Observe the instructions of the vehicle manufacturer.)
– Now start the vehicle needing assistance for a maximum of 15 seconds. Do not start the assisting vehicle.
– When disconnecting the terminals, remove the cables in the reverse sequence to the above.
Attention: The car battery is not always installed in the engine compartment, but can also be located in the interior/passenger compartment or luggage compartment. The procedure of the jump start remains unchanged!
Get through the winter safely and well!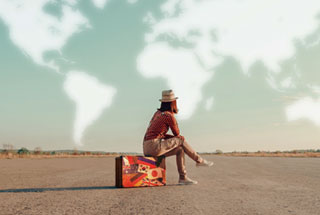 Battery-tip: Heat causes car batteries to sweat!
"Summertime blues" for batteries.
Those needing a new battery in winter have generally made a mistake in summer.
High air temperatures cause the water in a conventional wet battery to evaporate to such an extent that the battery plates are literally dry. The battery becomes weak and fragile.
Duracell professional tip:
Make a battery check, on every vehicle, in the workshop run!
Control for longer life.
A battery supplies energy permanently when its optimum state is maintained. With test and checking devices you can test charge conditions, voltage, the status of the battery acid and much more. This way you know immediately if and which measures are necessary to maintain full battery power.
Regularly check the electrolyte level in wet batteries and, if necessary, top up demineralised or distilled water to the maximum acid level or 15 mm above the upper edge of the plate.
There is no need to top up water on Duracell's absolutely maintenance-free wet starter batteries (applies to Duracell Starter, Duracell Advanced and Duracell Extreme EFB). Under normal operating conditions, no water needs to be refilled for the entire battery life of the Duracell product variants mentioned above.
In case of high water loss, the controller voltage should be checked by a specialist. Never top up acid!
Please note with Duracell Extreme AGM batteries:
The screw connections of the AGM batteries must not be opened! An acid density measurement or refilling of distilled water is not possible or not necessary!
Battery check with test and checking equipment:
Make important routine checks for optimal performance and longer battery life of any car battery.