Duracell Professional
DP 150 EFB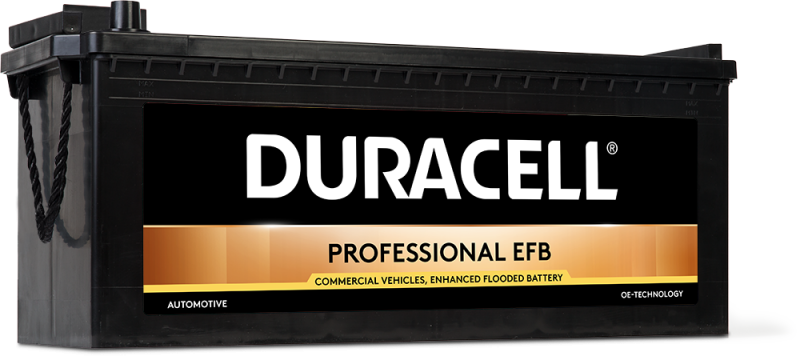 Fits the following applications
DURACELL PROFESSIONAL EFB
INSTALLING THE POWER INTO LONG-DISTANCE TRUCKS

The batteries employed for the electrical systems in commercial vehicles have to provide top performance on a daily basis and in addition, the steady increase in the number of comfort functions demands large quantities of energy. In particular, this applies when long-distance truck drivers remain in their vehicles overnight and use a very large number of power consumers. Moreover, if the battery is to be integrated into the rear section of the truck frame, it must be extremely robust and vibration-resistant.
Please note when exchanging the battery:
A vehicle fitted with an EFB battery may never be retrofitted with a conventional wet battery. Should battery replacement become necessary, always use an EFB battery with an identical
box and performance class.
Duracell tip: A conventional starter battery can be upgraded into a more powerful and cycle-resistant Professional EFB.
FACTS PROFESSIONAL EFB

Increased cyclical resistance owing to an active mass recipe and non-woven, electrode sleeves
Robust design and optimum vibration resistance due to special set anchorage
Improved mesh corrosion resistance derived from the use of a continuous production process
Calcium technology for minimum water consumption
Designed for the maximum energy requirements derived from the growing number of comfort functions in long-distance trucks
Maintenance-free (no topping-up with water) under normal operating conditions
Central degassing with integrated backfire protection
Dimensions in line with EN 50342-4:2009
Commercial Vehicle Batteries
Cold discharge test current EN (A)