Duracell Extreme AGM
DE 70 AGM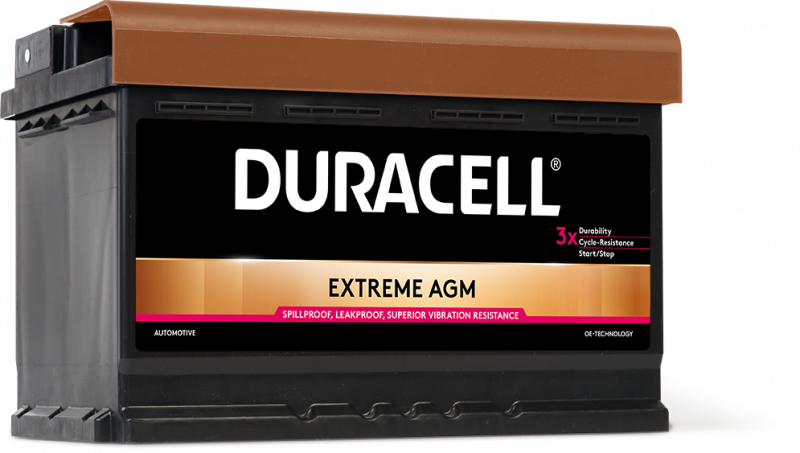 Fits the following applications
DURACELL
EXTREME AGM
AGM-TECHNOLOGY FOR START/STOPP VEHICLES WITH BRAKE ENERGY RECUPERATION

The Duracell Extreme is built for use in environmentally friendly cars which incorporate the stop-start function.
The AGM (Absorbent Glass Mat) battery is mainly used on medium and executive/luxury vehicles, where more complex stop-start functions together with brake energy recuperation are standard.
Duracell Extreme premium products meet the demands of leading car manufacturers, and with a range of 6 types from 50 Ah to 105 Ah are the first choice for fuel efficient cars.
FACTS AND FIGURES

Valve-regulated nonwoven glass mat battery (VRLA) – 6 models with 50/60/70/80/92/105 Ah
Three times greater cycle resistance than standard batteries
Leak-proof due to electrolyte bonding into a glass nonwoven (absorbent glass mat)
Zero maintenance owing to recombination technology
Very low internal resistance – maximum starting power
Installation in a lateral position possible (max. 90° angle)
Product classification with UK number and EN/SAE cold crank power
Cold discharge test current EN (A)