Duracell Extreme AGM BackUp
DE AUX 09L AGM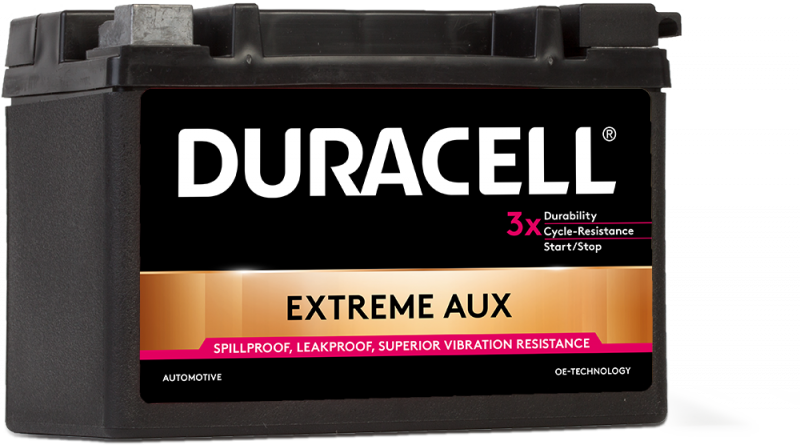 Fits the following applications
DURACELL
EXTREME AGM BACKUP
BACK-UP FOR START/STOP VEHICLES WITH VERY HIGH ENERGY NEEDS
The Duracell Extreme is designed for use in environment-friendly vehicles fitted with a stop-start function.
If additional consumers such as electrical steering or redundant safety systems are to be supplied, the Extreme BackUp with AGM power provides the starter battery with ideal support.
Duracell Extreme premium products meet the demands of leading car manufacturers and are the first choice for fuel-efficient cars.
FACTS AND FIGURES
Valve-regulated AGM battery (VRLA)
Range of three types with capacities from 9-20 Ah
Three times greater cycle resistance than conventional starter batteries: highest M3 classification pursuant to EN 50342-1
Leak-proof due to electrolyte bonding into an absorbent glass mat
Zero maintenance due to recombination technology
Installation in a lateral position possible (max. 90° angle)

Duracell Extreme AGM BackUp
Cold discharge test current EN (A)